Upright Junipers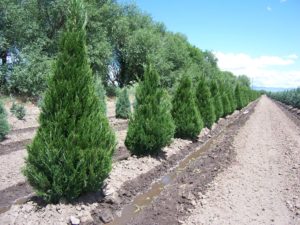 Spartan Juniper
Juniperus chinensis 'Spartan'
Zone 4
Ht 20' x W 8'
A fast growing, densely narrow, pyramidal juniper.  Rich green foliage year round.   Deer resistant, water wise and makes a great privacy screen.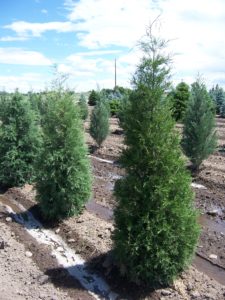 Rocky Mountain Juniper
Juniperus scopulorum
Zone 2
Ht 20' x W 12'
Rocky Mountain juniper has an upright form with variable blue-green to silver foliage.  It is hardier, more drought tolerant and wind resistant than any of its cultivars.
Medora Juniper
Juniperus scopulorum 'Medora'
Zone 3
Ht 15' x W 5'
Medora is slender and has a narrowly pyramidal form with excellent blue-green foliage.  Rather slow growing.  This tough plant originated in the Badlands of North Dakota and tolerates heat, cold and drought.  Best in full sun and moderate water.
Moonglow Juniper
Juniperus scopulorum 'Moonglow'              
Zone 3
Ht 20' x W 8'
A dense, pyramidal juniper with intense silver-blue foliage.  Attracts birds, very tolerant, and is excellent for windbreaks.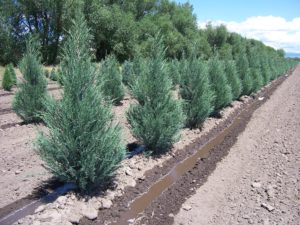 Skyrocket Juniper
Juniperus scopulorum 'Skyrocket'
Zone 3
Ht 20' x W 6'
Skyrocket is a tall, extremely narrow juniper with attractive silvery blue foliage.  Fast-growing and requires little maintenance.  Makes a great, water wise privacy screen.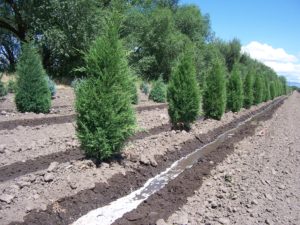 Taylor Juniper
Juniperus virginiana 'Taylor'
Zone 4
Ht 25' x W 4'
Semi-soft, dusty green foliage and a tight, narrow form provides a refined, elegant look.  This selection will maintain a dense form without constant maintenance.  A Nebraska Arboretum introduction that is a great option for a green windbreak, screen, etc.